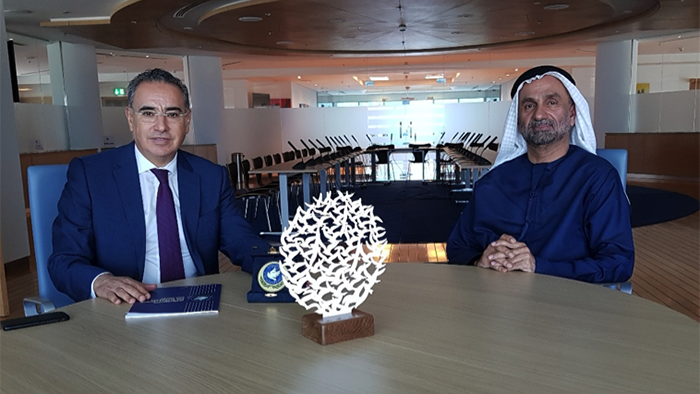 Photos
Ahmed Bin Mohamed Aljarwan, President of the Global Council for Tolerance & Peace (GCTP), expressed strong support for IPI and pledged cooperation on the "Culture of Tolerance and Peace" through joint programs, initiatives and events at a November 12th meeting in Manama.
Nejib Friji, Director of IPI-MENA, and Mr. Aljarwan stressed the need for a partnership "contributing to the dissemination of the culture of tolerance and peace," calling on IPI's cooperation with GCTP for the same. On the same occasion, Ebrahim Nonoo, representative of the Jewish community in Bahrain, explored cooperation with both IPI and GCTP.
The concept of the "Culture of Tolerance & Peace" seeks to shape a global platform to ensure that security, peace and stability can be integrated in a meaningful way for all human beings by overcoming the prevalent culture of prejudice, discrimination, religious sectarianism, xenophobia and the rise of nationalism and violent extremism in societies.
The Malta-based GCTP aims to achieve this objective through strategic conferences, cultural exchange programs and communication programs involving government bodies, academia and international organizations. IPI has coordinated initiatives like "Art for Peace," in which prominent artists from the MENA region promoted the culture of peace earlier this year, as well as, regular interfaith dialogues and global conferences aimed towards creating roadmaps to cultivate a permanent culture of gender equality, tolerance and peace.
To that end, Mr. Friji welcomed GCTP President Aljarwan and stressed the need to institutionalize mutual cooperation in line with IPI's mandate—highlighting that such partnership would meet the aspirations of the peoples of the MENA region and reinforce efforts to generate genuine tolerance and sustainable peace and development.