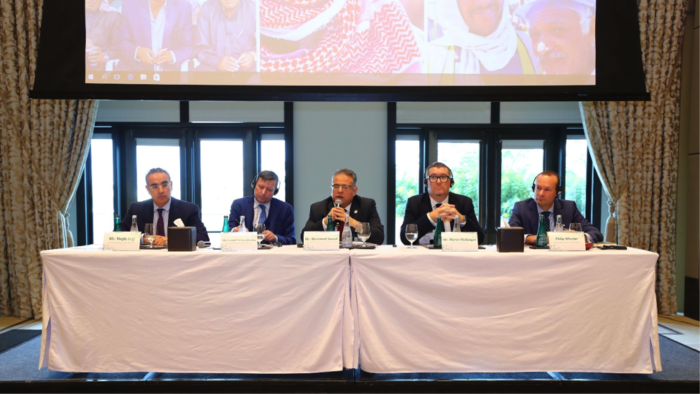 Photos
Peace and regional stability are at stake in the pensions crisis, Nejib Friji, Director IPI-MENA, warned an expert audience at the second annual TAKAUD Pensions Conference in Manama. The pressure on pension payouts is increasing with the regional and global elderly population expanding due to longer life expectancy, extended contribution in the labor market, and reduction in family sizes, Mr. Friji stressed. "This exacerbates generational tensions over limited public resources, which subsequently jeopardizes social peace in the long-run," he said.
Mr. Friji said that if these issues are left ignored, by 2050, the projected 70 million elderly people in the MENA region alone will have no income, let alone the billions of people globally without pensions.
TAKAUD—a specialist provider of savings, investment and pension solutions for the MENA region—convened the conference on November 28th. Mr. Friji moderated a panel session, "Can Expat Pensions be introduced in the Gulf Cooperation Council (GCC)?" Participants included Mohamed Suoodi, Chairman, Social Insurance Fund for the Government Sector, Egypt; Montserrat Pallares-Miralles, Senior Social Protection Specialist, World Bank Group; Martin McGuigan Partner, AON Hewitt Middle East and Mr. Philip Wheeler, Senior Manager, MENA Pensions Advisory, Ernst & Young.
"The need to retire in comfort and security is universal," emphasized Supreme Council of Health president and chairman of the Al Hekma Society for the Retired, Shaikh Mohammed bin Abdulla Al Khalifa. He also urged the retirement age to be increased to 65-67.
"Global experience shows that pensions require multiple pillars—among the government, corporate and individual sectors—to be more sustainable. Building effective local models and institutional frameworks for pensions would be key prerequisites to move in this direction, which is the focus of this conference," said Ebrahim K. Ebrahim, TAKAUD's Chief Government Business & Communications Officer. "It is certainly time for the region to create a wider framework for more sustainable retirement options for people," he added.
Mr. Friji said he was alarmed by a World Bank and International Labor Organization (ILO) finding that only 15% of the global population are covered by pensions. To put this in context, he added, "most people nowadays and in the future study for 30 years, work for 30 years and then retire around the age of sixty or more, for another 30 years or so. The World Bank estimates that there are currently over 600 million retirees in the world. Future estimations predict that this number will increase to 2.1 billion by 2050."
"The MENA region has millions of expatriates with potential that has yet to be tapped vis-à-vis pension schemes," he stressed. Recognizing expatriates' contribution to the economic development of their host country can, according to Mr. Friji, change some perceptions and attitudes towards these guest-workers by national governments and societies and vice versa.
In addition to this, he said that in some developing and industrialized countries, pensions are the only source of income for a household, which may be home to three generations. Therefore, their very survival is predicated and dependent on these pension schemes. The threat this presents to social peace has regional and global implications, Mr. Friji said.
Of the 17 million foreign employees in the GCC, a staggering $80 billion was transferred from those foreign workers in the GCC to their home countries in 2014 alone. "Wouldn't the billions in funding transferred externally constitute a hemorrhage to the economic development of a country?" Mr. Friji wondered while recognizing that the employee has the right to manage his or her funds. "With pensions, nations have been able to mobilize pension savings into large pools of assets, through creating jobs and employment," he noted.
Evidently, solving this acute pension crisis is a prerequisite to maintaining a collective peace, Mr. Friji said. At the same time, the UN found the total number of migrants constituted 3.3% of the global population in 2015. These 244 million migrants were a 41% increase since the year 2000.
Mr. Friji said that fostering a positive outlook towards foreign workers could have the ripple effect of cultivating a more attractive local labor market and improving preconceived perceptions between guest-worker and host-countries.
Mr. Friji said it is the duty of both the state and private sector to equip the salary-makers to first meet the expatriates' rights, but also to work on sustainable development and peace to avoid and prevent social unrest.
The "pension-less" population will constitute a challenge if not a threat to social peace, Mr. Friji warned.
Mr. Friji called on the multilateral system, the UN and Bretton Woods institutions to work on a preventive plan like the Marshall plan which could, in effect, serve as a mitigation plan that solves the current pension funds crises and could be aimed at preventing this crisis from becoming a serious threat to social peace and stability.
The second annual Pensions Conference was organized by TAKAUD.
Mr. Friji moderated the panel session.