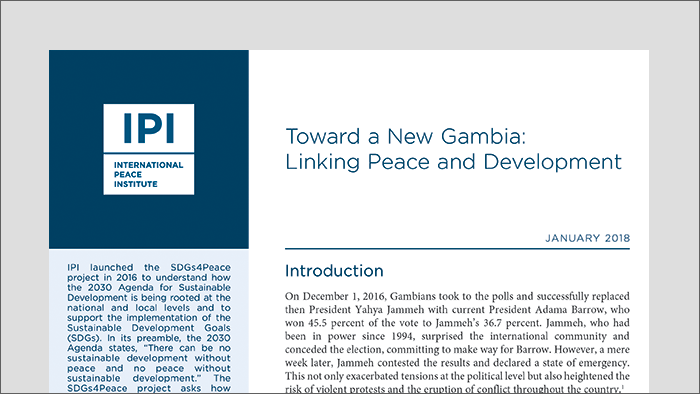 In December 2016 Gambians took to the polls and successfully replaced longtime president Yahya Jammeh with current President Adama Barrow, ushering in a political transition. More than a year into this transition, the country is at a tipping point. Public expectations remain high, and the list of competing priorities, from increasing economic opportunities to implementing transitional justice, is long.
As the new administration plans the way forward, the 2030 Agenda for Sustainable Development can guide policymakers in planning and implementing inclusive policies that address both peace and sustainable development; as noted in the agenda, "There can be no sustainable development without peace and no peace without sustainable development."
This issue brief is part of the International Peace Institute's (IPI) SDGs4Peace project, which seeks to understand how the 2030 Agenda is being rooted at the national and local levels and to support the implementation of the Sustainable Development Goals. The project focuses on five case studies: the Gambia, Greece, Guatemala, Lebanon, and Myanmar. Implementation of the 2030 Agenda provides each of these countries an opportunity not only to buttress existing aspirations but also to build new partnerships that transcend traditional approaches.