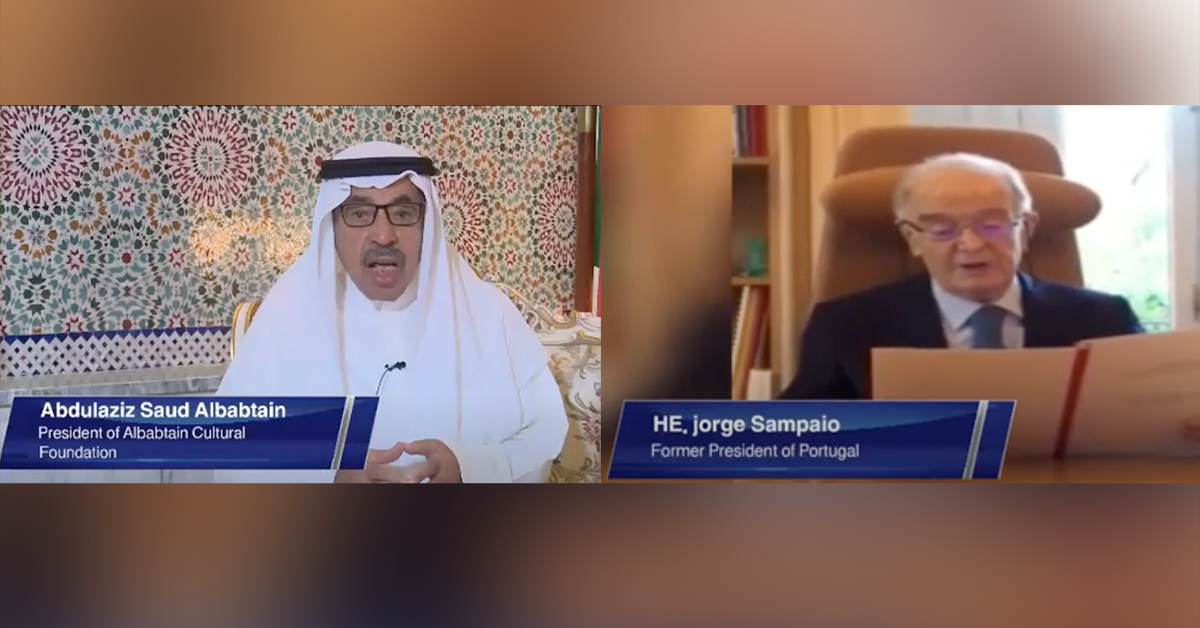 Addressing government representatives, UN officials, heads of global organizations, and academics, IPI MENA Director Nejib Friji, and key international leaders and personalities, called for greater unity across the multilateralism system in promoting a global "culture of peace" to build societies that are resilient in the wake of crises and pandemics.
During a June 26th webinar on "Solidarity in COVID-19" organized by the Al-Babtain Cultural Foundation, President of the foundation Abdulaziz Al-Babtain called for solidarity during the pandemic, stressing the humanitarian, moral, and religious duties required in this context. He noted Kuwait's $60 million donation to the World Health Organization and his foundation's financial support to affected students in Somalia, Egypt, Italy, the Netherlands, and the United Kingdom. He lauded frameworks that have been put in place to mitigate the impacts of the pandemic, such as the rapid mechanism response to higher education in crisis, led by former Portuguese President Jorge Sampaio.
Mr. Friji joined the calls for solidarity, stressing IPI's commitment and support for multilateral solutions to transnational problems created by the COVID-19 pandemic, and highlighted IPI-Al Babtain Cultural Foundation joint initiatives on "the culture of peace" during a time when the world has witnessed a backsliding on international laws and norms, increasing unilateralism, and national populism.
"This has been compounded even more now by the pandemic as we see borders shutting, racism and xenophobia rising, and a loss of trust among people, governments, and institutions," he stated. He outlined education, women, and youth and as three key elements central to the framework to build resilience through a culture of peace in addressing some of the issues the pandemic has brought to light.
"The Culture of Peace strategy should be preemptive, preventive, and anticipatory to avoid conflicts, pandemics, and other challenges that may threaten global peace, security, and sustainable development," he stated. "IPI and the Al-Babtain Foundation are partners in this regard."
In a recorded video address, former Portuguese President Jorge Sampaio pointed to higher education and youth as a key element in helping build resilience in future crises. "Higher education tends to be neglected by households that cannot cope with the wide range of needs and expenses. COVID-19 sent shockwaves throughout the world and an entire generation is at risk of being lost," he stated. He called for bold collective action to assist students in vulnerable conditions, whether they come from low-income households, are refugees internationally or externally displaced, or are based in conflict-affected societies. "Providing tertiary education opportunities that enhance people's resilience and enforce their skills to thrive in the future is the only way forward," he concluded.
Former Foreign Minister and Parliament Speaker of Malta Michael Frendo said the pandemic has shown that cooperation and coordination are essential, and pointed to the European Union as an example of working in solidarity. "Solidarity means remembering the old Roman law concept of bonus pater familias—we have to take care of the family, and the best way to do this is to work together in global solidarity."
"Multilateralism is not dead," he stressed. "We saw that we need the WHO and we need to have an international response to what is an international crisis. He called for the involvement of the private sector in joining the resources of nation-states in combating pandemics.
His calls were echoed by Ambassador Helga Mizzi, Senior Diplomatic Coordinator to the President of the Republic of Malta who highlighted Malta's reliance on the multilateral system. "Geographically, we are isolated, with limited means and limited infrastructure. We are a living example of how no country can do it alone. If there ever was a moment where evidence was needed that the multilateral system is alive, we are it," she said.
In a statement on behalf of Albanian President Ilir Meta, Advisor Haris Vongli noted that solidarity is a matter of mentality that also means maintaining democracy, pluralism, the rule of law, and human rights. "The virus is destroying many lives and many other things precious to us, but we must not let it destroy our fundamental values and free societies," she stated.
Samer Haddadin, Head of UNHCR in Kuwait, stressed the terrible impact the pandemic is having on refugees. "The refugee problem is as old as human history. More than 1 percent of the earth's population are refugees—that is one in 97," he stated. "Solidarity is part of international customary law—we have the tools, but we need the wish and the intention to work together and implement these tools. We must think outside the box if we do not wish to repeat history's mistakes."
For her part, Colonel Myszka Guzkowska, former Deputy Director of Training at UK Royal Military Academy Sandhurst, Vice-Chancellor of Manchester Metropolitan University, and Pro Vice-Chancellor of Westminster University, stressed that the UK needs to learn a lot from other countries and reflect this in domestic practices. She stressed that a greater priority should be given to the health and wellbeing of populations, instead of focusing solely on the economy.
Professor Nabil Ayad, Director of Postgraduate International Diplomacy Programmes at Glasgow Caledonian University London Campus, called for further investment across health sectors. "Investment in health is an investment in the economy—it is not an altruistic act but a necessity. Government policy is determined on the basis of advice from experts whose recommendations are evidence-based, therefore it is important to invest in expertise in global health. We must strengthen international cooperation in medical science and bring science diplomacy to the attention of political and academic communities."
Referencing Italy's experience, Professor Luigi Moccia, President of the Centre of Excellence Altiero Spinelli in Rome, noted that social resilience is upheld by civil society actors and that public assistance intervention generally tends to be held in balance with voluntary association, charitable, and humanitarian organizations. He spoke about Italian families helping each other and retired medics and nurses responding to calls to join the frontlines and government's policies as a dynamic example.
Emir Abrashi, Analyst and former Communication Advisor to a number of Presidents of the Republic of Kosovo, pointed to Kosovo's experiences as an example of what could be achieved when the international community comes together as one body and works as such.
"As a Kosovar, I am fully aware of how small one is if they stand alone, and how strong you are when you have friends and allies," he stated. "We must work together, break the barriers between nations, and unite to make sure upcoming challenges do not find us as divided as this current pandemic found us."
Lotfi Zitoun, Tunisian Minister of Local Affairs, highlighted the severe social, economic and financial impacts coronavirus had on his country, and called for international cooperation and coordination.
Concluding the virtual conference, Dr. Samir Saran, President of the Observer Research Foundation, referred to the dangers of an "info-demic" amid the pandemic, which is beginning to turn communities against themselves. "We need to rethink and recalibrate how we are going to manage digital societies that are now emerging in this period. Most of our affairs will be conducted online and we need to think about the sociological impacts of digital societies. Digital societies of the future don't have any governance frameworks to manage them—the world must come together during this crisis and thereafter to build a framework of the future for digital societies."
Dr. Saran pointed to India's experience and the socio-economic challenges the country faced due to the pandemic, particularly the fight against poverty. "We have lost a year or more. The pandemic will pull nearly 100 million humans back into poverty and a large part will come from India. We will have to redo much of what we have done in the last decade or more with greater intensity."