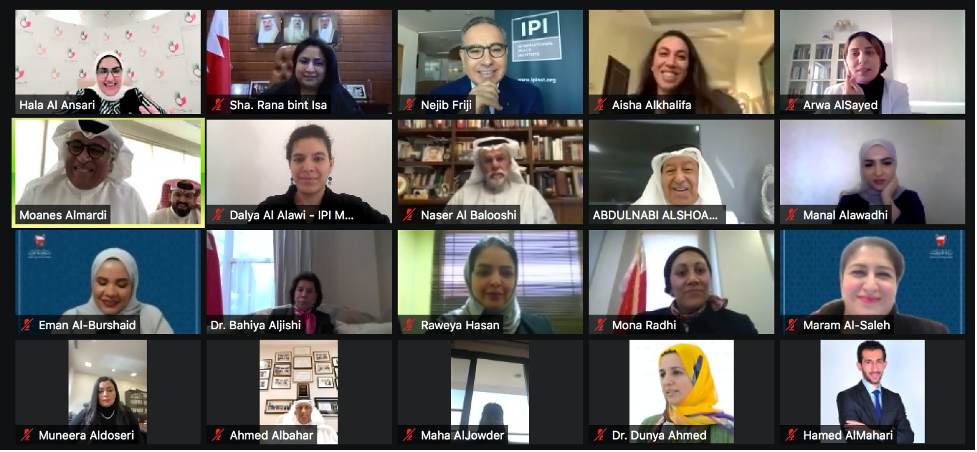 Addressing representatives of government, private sector, and the diplomatic community on November 26th, IPI MENA Director Nejib Friji highlighted Bahraini women's role in diplomacy and their importance in fighting the pandemic.
During a webinar on the occasion of Bahraini Women's Day, organized by the Supreme Council for Women (SCW) in cooperation with the Al Bilad, SCW Secretary-General Hala Al-Ansari underscored Bahraini women's resilience throughout historical contexts and applauded Bahraini men's strong support to women's accomplishments across key sectors.
She pointed to the percentage of female managers across the foreign ministry, 29%, as a reasonable average in comparison to diplomatic corps around the world, yet stressed that Bahrain aspires for greater participation. She underscored the foreign ministry's efforts to implement a national model for gender balance in cooperation and coordination with SCW.
During his intervention, Mr. Friji underlined that Bahrain's women's achievements are reflected across the media, diplomatic corps, abroad, and across international spectrums, and pointed to key diplomatic posts at the multilateral level held by Bahraini women. He encouraged Bahrain's efforts and echoed H.E Hala Al Ansari's calls for greater involvement of women.
Mr. Friji emphasized the key role of education and pointed to the fact that across Bahrain's education sector, women outnumber men. "Any progress to women empowerment is linked to how much you invest in education and legislation, and laws that protect the rights of women," he stressed.
He also pointed to the key role Bahraini women have played in the context of the Covid-19 pandemic and praised the initiatives of Princess Sabeeka bint Ibrahim Al Khalifa, Wife of the King of Bahrain and SCW President in assisting women affected by the pandemic. He noted that Bahrain's performance has been positively followed by member countries and organizations.
Key speakers included H.E Sh. Rana bint Isa Al Khalifa, Undersecretary at the Ministry of Foreign Affairs and H.E Naser Al Balooshi, Bahrain's Ambassador to Italy.