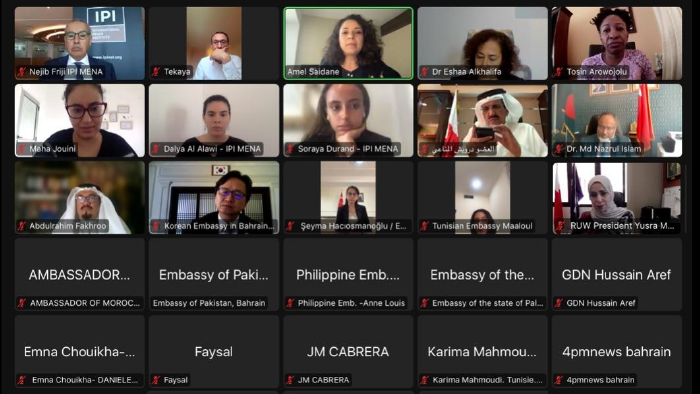 In a webinar organized on May 30th by IPI MENA, experts and key players called on states and entrepreneurs to further boost the role of artificial intelligence (AI) in development in the Middle East and North Africa region and beyond.
Opening the webinar, IPI MENA Senior Director Nejib Friji, highlighted the urgent need to harness artificial intelligence for economic and social development. He underscored that technology's ability to connect people, ideas, projects, and strategies is precisely what makes it an efficient tool in achieving sustainable development and regional integration.
In a video message, Ferid Belhaj, Vice President of the Middle East and North Africa at the World Bank, noted that while AI has created a multitude of opportunities, it is also posing risks associated with data security, privacy, transparency, safety, and bias. "It can also fuel inequality as algorithms will segregate a group of people. However, if regulated properly, we can harness responsible AI as it will lead to economic growth and prosperity."
Belhaj highlighted the need in MENA countries to encourage the youth, particularly young women to participate in technological spaces and for them to embrace STEM education. He noted that the region needs to ensure the availability of skills and resources. "Our main issue in the Middle East and North Africa today is the unemployment of young people. By 2050, we will be looking at more than 300 million young people knocking at the door of the job market and these young people will not find a job in the public sector. The private sector is the driver. AI and the digitalization of our economies will open wide the doors for these new jobs."
Mehdi Tekaya, President and Founder of Wevioo Group in France, pointed to what is missing in the Middle East and Africa region, which is the data. Despite the fantastic pool of talents and engineers, progress will be stalled until there is a massive digitization effort. He noted that "[In the example of Tunisia] 55% of the AI employees are women – the majority of the engineers that we hire are women. This is a great opportunity to have great job opportunities and to bring ladies into this work," he stated.
Amel Saidane, CEO & CoFounder, BetaCube in Tunisia, noted the potential that technology, and particularly AI, has in solving problems that pertain to the Middle East and North Africa region such as water scarcity, extreme heat, and mobility. In order to do this, she noted that a linear approach to problem-solving is not sufficient. "We need some disruptive way of looking at things. That's why we are focusing on startups and finding ways to solve our big problems in an exponential and disruptive way."
Saidane underlined the importance for the Middle East and North Africa region to create their own model that is relevant to them and encourage cooperation between all MENA countries. She called on states to create public platforms that are owned and controlled by the people. "Unless we create a system of interdependence and cooperation, the Middle East and North Africa region will continue to be left out of the game. We need to move faster."
Sheikha Eshaa Alkhalifa, CEO of SayG in Bahrain, highlighted the need to encourage and support the youth in this field that is becoming ever more relevant and important, both locally and regionally.
"It is a tool and just like all tools, it depends on how we use the tool. So, our use of AI in Bahrain is to try and prevent criminal behavior by hackers. It is creating new jobs and new opportunities for young people. In our region, we are proud of our young people as they are so ambitious and we like to encourage them to contribute to this new field that needs a lot of young people," she stated.
Maha Jouni, Head of the African Center for AI and Digital and Technology in Mauritania, emphasized that policy needs to be addressed in order to make AI more accessible to members of communities in the African region. "The infrastructure in education is unequal in Africa. STEM courses are only given in international schools, this cannot be found in public schools, especially in rural areas."
The virtual event concluded with a question-and-answer and a comment-sharing segment. Seidane left a comment regarding the role of startups and their significant contribution to the global economy. She noted that the African region is falling behind in start-up growth and believes that we need to move to a stage where the continent is able to reinvent itself and push forward.
In a reply to a question by The Daily Tribune reporter about the problems that are tied to embracing the latest technology in the financial sector – as there is a dilution of accountability and how we can address this – Tekaya said that the technology that exists today is mature enough to avoid these kinds of issues and if they continue to exist, it needs to be investigated properly.
In an answer to The Gulf Daily News question about whether there was an increase in Bahraini companies integrating AI-related technology into their businesses, Sheikha Eshaa Al Khalifa confirmed that there is an increasing number of companies in the Kingdom that are integrating AI into their products, noting that a large proportion of these companies are Fintech.
Abdulrahim Fakhroo, member of Bahrain SMS Society highlighted the importance of laws and regulations in enhancing cybersecurity in Bahrain. He stated that there should be new laws that are very clear as well as flexible so that they are able to adapt as much as technology changes.
Korean Ambassador to Bahrain Kwan Chung highlighted that AI is undoubtedly the future but a major issue is that of data transport. He asked the panel if there was any discussion happening in the MENA region on data transport. Tekaya replied that there was a lack of discussion happening but that regulators do have to address the data transportation issues in the region as it is a key element of ensuring the success of AI.