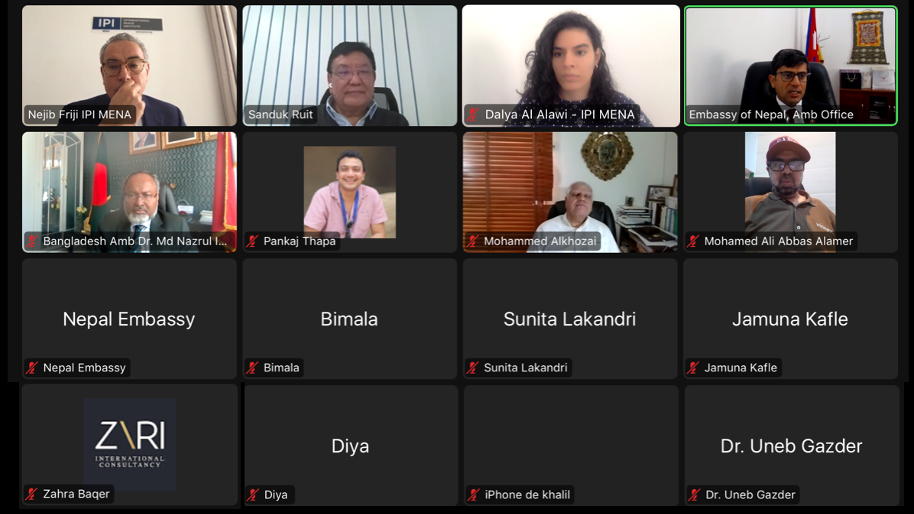 Diplomatic corps, private sector, medical representatives and key players called on local, regional and global communities to bridge divides between the medical, private and humanitarian sectors in order to build resilient societies that can sustainably address the challenges of the twenty-first century.
IPI MENA hosted its first Global Humanitarian Leaders Series on March 21 under the theme "Pioneering Humanitarian Medical Assistance" which featured key-speaker Dr. Sanduk Ruit, Ophthalmologist from Nepal and Recipient of the 5th Edition of the Isa Award for Service to Humanity, for his ground-breaking research on cataracts and humanitarian contributions in saving the sight of 120,000 low-income people free of charge.
Opening the conference, IPI MENA Senior Director Nejib Friji pointed to IPI's milestone ICM report, specifically the section focusing on the health sector, pandemics and public health. "Among various recommendations, one stands out to me during this webinar," he noted. "Partnerships with the private sector should be strengthened – there is great potential for public-private partnerships in health, and these could include partnerships in research and development."
He called on ophthalmologists and private sector leaders who have rich experience in conducting humanitarian medical work in remote areas, in Tunisia, North Africa and beyond in Africa, to assist people in need and preserve sight. "I hope they join the efforts with Dr. Ruit to further expand their noble initiatives in Africa and other continents," he stated, while thanking the Kingdom of Bahrain for granting the Isa Award to highlight Dr. Ruit's humanitarian work.
Underscoring the importance of focusing on eyesight as an area for humanitarian work, Dr. Ruit noted the socio-economic burdens of blindness in that it shortens life expectancy, income, and employment, all of which are critical in low-income developing countries.
"About 36 million people are blind, and if you add the number of operable cataract cases it is about 100 million people. Unfortunately, close to 90% of those cases live in low- and middle-income countries," he stressed.
He underlined that cataracts are still the most common cause of blindness, and while 100 million patients require cataract surgery, only 30 million surgeries are done per year. This deficit of 70 million patients who need cataract surgery live in low-income areas.
"To provide modern cataract surgery at the community level it is really important that our work be sustainable," he stated, and stressed the need for powerful research and innovation in this field. This enables them to tap into new technology at reduced costs, and as a result allows them to reach poorer communities to perform the surgeries.
He shared a case study of a low-income woman who suffered from blindness due to cataracts and as a result was abandoned by her husband despite having a nine-month-old baby. The child was malnourished as the woman couldn't properly look after him due to her medical situation. Dr. Ruit noted that her case could represent any woman from a low-income area in Asia, the Pacific, Africa, or even South America. Six years after performing surgery on her for free, Dr. Ruit found that she was running the household and farm of her family, her son was going to school, and she was able to negotiate some of the most difficult terrains in Nepal to provide for her family.
"You can see why good vision is very central for this part of the world," Dr. Ruit stressed. "She is back into the affairs that are related to society, she is now an economically viable family member."
He emphasized the importance of sharing the knowledge and know-how to the medical and health sectors globally to sustainably help and improve local low-income communities. "We are training close to 800 eye doctors now from almost 40 countries around the world and the technique specifically addresses the local socio-economic conditions," he stated, while noting the critical importance of the medical and private sector linking up with local partners in each respective country and gaining the support from the local health ministries.
During the open-floor debate session, Bangladesh Ambassador to Bahrain Dr. Nazrul Islam underscored Bangladesh's willingness to collaborate and cooperate with Dr. Ruit to ensure his humanitarian work can access Bangladesh's health sector, to which Dr. Ruit noted the request he received for a partnership with the Bangladesh Ophthalmological Society, as well as the work they do with local doctors.
Professor Khalil Rayes, Secretary General of the Tunisian Ophthalmological Society, invited Dr. Ruit to an upcoming annual congress session on blindness in Tunisia and responded to Dr. Ruit's call for collaboration with a suggestion for cooperation in this field. He noted the various campaigns on the prevention of cataracts in Tunisia and sub-Saharan countries as well as the importance of engaging with governmental and NGO associations. He also underscored the need for research and innovative thinking in developing surgical techniques that are not expensive to meet the needs of the people.
Nepal Ambassador to Bahrain Mr. Tirtha Raj Wagle highlighted Nepal's pride in Dr. Ruit's humanitarian efforts and the strengthening of already positive relations between Nepal and Bahrain through the Isa Award, established by His Majesty King Hamad bin Isa Al Khalifa of Bahrain. While thanking IPI MENA for hosting Dr. Ruit, he reminded the audience of the importance of fostering South-South cooperation in vulnerable and low-income countries.