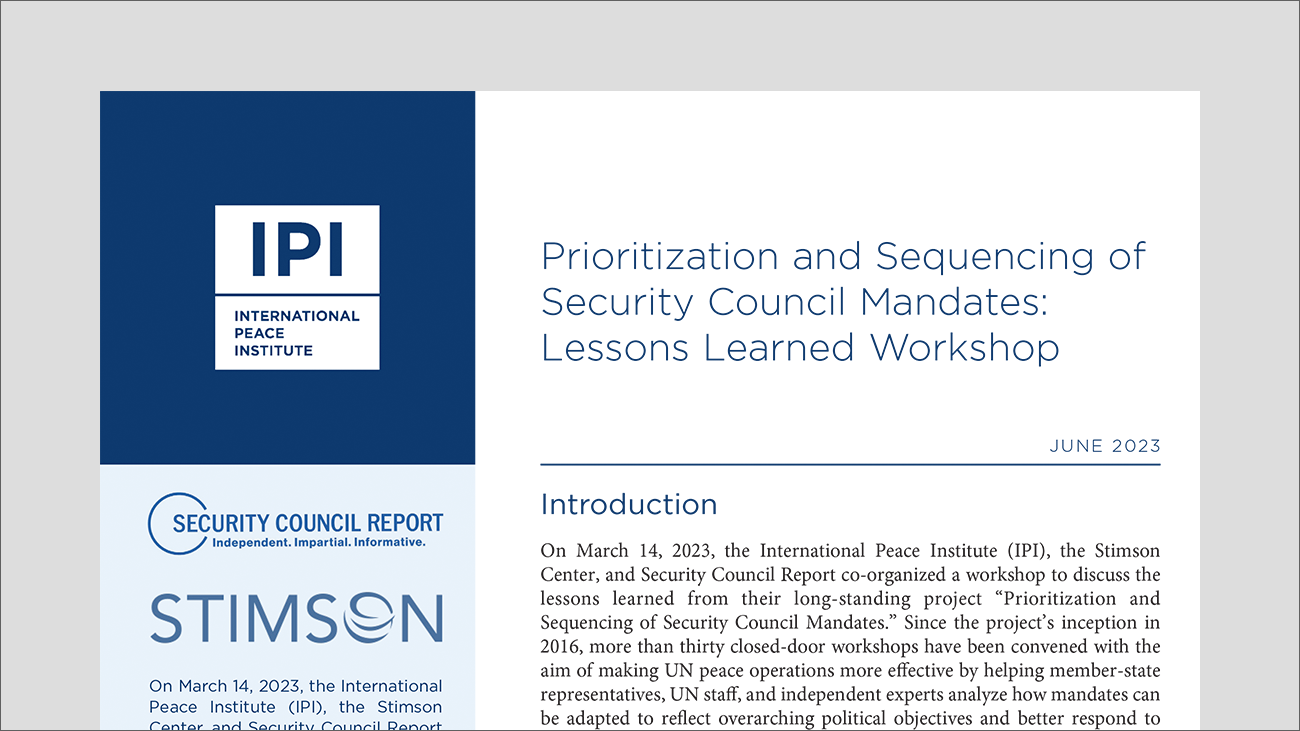 In 2016, the International Peace Institute (IPI), the Stimson Center, and Security Council Report established their now longstanding project "Prioritization and Sequencing of Security Council Mandates." Since the project's inception, more than thirty closed-door workshops have been convened with the aim of making UN peace operations more effective by helping member-state representatives, UN staff, and independent experts analyze how mandates can be adapted to reflect overarching political objectives and better respond to political processes and operational dynamics on the ground.
Given the interest in continuing this project, the project partners decided to convene a lessons-learned workshop to capture feedback and document suggestions for improving the project. This note summarizes observations raised during the first part of the workshop, focusing on current trends, practices, and dynamics related to the mandating process within the Security Council and its impact on UN peace operations. Overall, the discussion revolved around three main issues: the increasingly polarized Security Council and its mandating practices, the role of elected members (E10) and host states in the penholder system, and the effective prioritization and sequencing of mandates.
The following were key points from the discussion regarding future Security Council mandates:
Participants emphasized that divides in the Security Council have hindered the ability of UN missions to effectively carry out their mandates. They therefore suggested that the Secretariat be more involved in conversations between member states and peacekeeping missions while cautioning against the potential divides this could create between missions and host states.
Participants recommended an increase in communication between penholders and host states during the mandate negotiation process but warned against the possibility of host governments exerting undue pressure during negotiations.
Participants agreed that streamlining mandate language has allowed missions to adapt to evolving situations on the ground but asserted that it is still too early to determine the full impact of cuts in language, particularly on priority activities like human rights, the protection of civilians, and women, peace, and security.