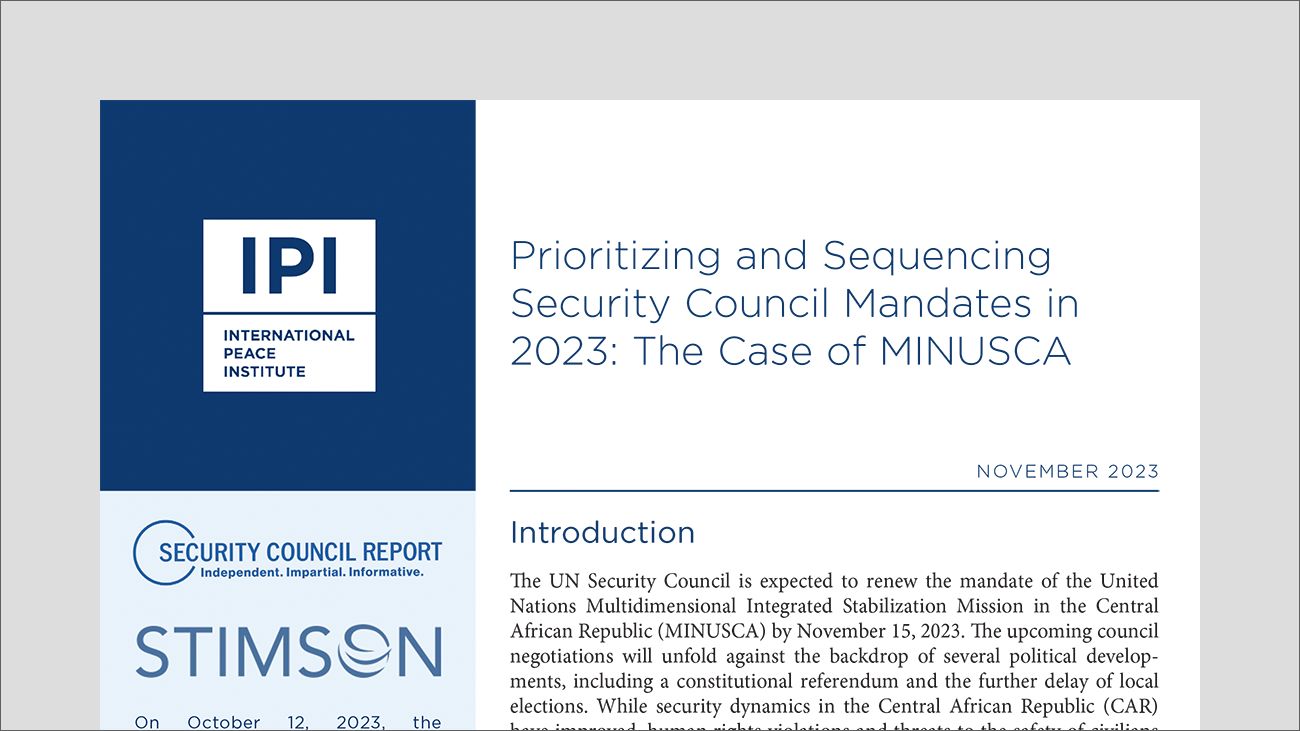 The UN Security Council is expected to renew the mandate of the United Nations Multidimensional Integrated Stabilization Mission in the Central African Republic (MINUSCA) by November 15, 2023. The upcoming council negotiations will unfold against the backdrop of several political developments, including a constitutional referendum and the further delay of local elections. While security dynamics in the Central African Republic (CAR) have improved, human rights violations and threats to the safety of civilians persist alongside underlying challenges of limited service provision, poor socioeconomic development, and significant humanitarian needs, all of which are exacerbated by regional conflict dynamics.
In this context, the International Peace Institute (IPI), Stimson Center, and Security Council Report cohosted a roundtable discussion on October 12, 2023, to discuss MINUSCA's mandate renewal. This roundtable offered a platform for member states, UN officials, civil society stakeholders, and independent experts to share their assessments of the situation in CAR in a frank and collaborative manner. The discussion was intended to help the Security Council make more informed decisions on prioritizing and sequencing MINUSCA's mandate, as well as the mission's strategic orientation and actions on the ground. This year's workshop also introduced a section to critically reflect on the bigger picture the mission fits into, triggering discussions about the assumptions that underpin the current approach to the situation in CAR.
Participants largely agreed that MINUSCA's mandated priorities remain relevant to the political and security context in CAR. Some called for a greater focus on supporting the CAR government by extending state authority, while others cautioned that all stabilization efforts should be clearly aligned with political solutions, emphasizing MINUSCA's role in supporting political processes. In renewing MINUSCA's mandate, the Security Council will likely need to consider the following issues:
Continuing support to the government's implementation of the Political Agreement for Peace and Reconciliation (APPR) and the Luanda Joint Roadmap, including by maintaining momentum on disarming and demobilizing armed groups;
Deepening cooperation and dialogue with national authorities and host populations to facilitate the mission's operations, avoid misunderstandings, and communicate the mission's achievements;
Fostering engagement between national authorities and civil society actors, as well as local peace committees, to facilitate an inclusive political process, particularly in the upcoming local elections; and
Addressing misinformation, disinformation, and hate speech in collaboration with the host state and civil society.