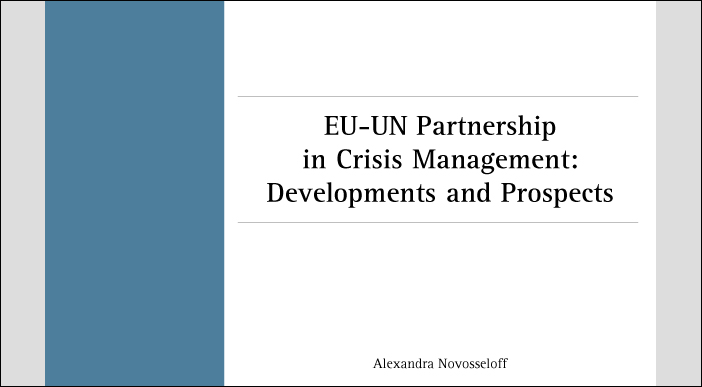 This report summarizes findings from a one-year International Peace Institute project on relations between the United Nations (UN) and the European Union (EU) in the area of crisis management. This issue falls under the broader category of relations between the UN and regional organizations, whose role has become increasingly common in UN peace operations. Addressing EU-UN relations is particularly relevant now as the EU is currently developing new civil and military capabilities to address crises.
This report begins by outlining the practical steps taken in recent years at the political and institutional level to develop the relationship between the EU and the UN. These developments are discussed in relation to the increasingly prominent role that the EU has begun to play within the UN. Attention is given to specific efforts made to strengthen capacities for EUUN cooperation in crisis management. The next section discusses developments and prospects for cooperation at the operational level. Key concerns relating to operational cooperation are discussed-in particular, concerns over the EU's commitment to the UN. Scenarios are outlined that may serve as models in the context of the increasing UN practice of "subcontracting"operations involving the use of force. This general discussion of cooperation at the operational level is followed by an examination of EU-UN cooperation in two recent operations in Bosnia-Herzegovina and in the Democratic Republic of the Congo.
A key finding of this report is that the first steps in EUUN cooperation have been quite successful. EU-UN relations are in fact evolving within an emerging decision-making architecture, in which no single state or institution, its members, or its secretariat has a monopoly in dealing with matters of international peace and security. Within this context, the European Security and Defense Policy (ESDP) has opened new possibilities for interaction between the UN and regional organizations.