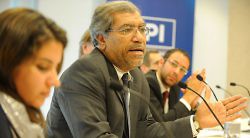 Dr. Khalil Shikaki, director of the Palestinian Center for Policy and Survey Research in Ramallah, and Daniel Levy, a member of Israel's delegation to the Taba negotiations with the Palestinians in 2001, participated in a policy forum debate at IPI on the results of an IPI poll that portrayed Palestinians supporting a two-state peace plan.
The poll also said that Palestinians would choose Palestinian Authority President Mahmoud Abbas and his Fatah party if elections were held today.
The poll slides were presented by Nur Laiq, IPI's senior Middle East Program Officer, and Dr. Craig Charney, the survey pollster and president of Charney Research.
Ms. Laiq and Dr. Charney traveled twice to Gaza and the West Bank this summer to supervise the poll, and they distinguished themselves last year in an IPI poll on public opinion in Lebanon that correctly predicted the widely unexpected outcome months later of the parliamentary elections in that country.
Dr Shikaki, who is also senior fellow at the Crown Center for Middle East Studies at Brandeis University, and Mr. Levy, who is Director of the Washington-based Middle East Task Force at the New America Foundation and Senior Fellow at the Century Foundation, participated as discussants and critiqued the poll on its methodology, timing and conclusions.
The policy forum, which was moderated by Warren Hoge, IPI's Vice President and Director of External Relations, was conducted on a non-attributable basis.
Made public on Sept. 23, the poll received broad media coverage, starting with CNN's Christiane Amanpour, who devoted the major part of her show that day to it. It also drew widespread attention in Israel and the Middle East and in major American papers and elsewhere in the world, largely thanks to pieces by both the Associated Press and Reuters.
The poll revealed major changes in attitudes since 2000, when Palestinians rejected compromises proposed at the Camp David summit with Israel, and the 2006 Palestinian elections, when Fatah was defeated by the Islamist Hamas party.
A clear majority of Palestinians – 55% – favored a Palestinian state in the West Bank and Gaza, separate from Israel, according to the survey. Just 11% favored either of the other alternatives under discussion, a bi-national state of Palestinians and Israelis or a confederation with neighboring Jordan and Egypt. (The rest favored none of these options or didn't know which they preferred).
There was also majority support among Palestinians for a two-state peace plan. Almost two-thirds (64%) preferred the plan, based on proposals from post-Camp David negotiations at Taba in 2001 and informal Israeli-Palestinian talks in Geneva in 2003, while just 17% preferred the status quo.
A similar proportion of Palestinians favored the Arab Peace Initiative, which offers Israel full recognition from 22 Arab states in return for Israel withdrawing to its 1967 borders and agreeing to a "just settlement" of the issue of Palestinian refugees. The researchers found that presenting the two-state plan as a way to implement the Arab Peace Initiative was a key to support, since the Palestinians see the UN resolutions it follows and its Arab sponsorship as guarantees of fairness.
The poll showed that Palestinian views have shifted considerably since 2000 when polling after Camp David showed that the Palestinian street also opposed the peace proposals that its leaders had refused to accept. Now, the Palestinian public has shifted from rejection to acceptance of the overall package and of provisions for Israeli withdrawal, Palestinian demilitarization, and mutual recognition.
"Our poll shows that the majority of Palestinians now support a two-state solution and the steps it would involve, even if that may not have been the case nine years ago," said Terje Roed-Larsen, IPI President and former UN Special Coordinator for the Middle East. "Palestinians as a people are ready to be a peace partner for Israel."
The poll found that Palestinian Authority President Abbas has a 55% job approval rating, while his likely challenger, Hamas leader Ismail Haniyeh, languishes at 32%. (Haniyeh and Hamas have ruled the Gaza Strip, the small territory between Israel and Egypt, since seizing it in a brief 2007 conflict with Fatah that led Abbas to fire Haniyeh as Prime Minster.)
The poll gave Fatah 45% of the parliamentary vote and 24% to Hamas, although a Fatah legislative council majority would depend on the choices of swing voters and the electoral system used. It also found that Abbas would defeat Haniyeh in a head-to-head contest across Palestine, though with a fairly narrow majority of 52%.
New Palestinian elections are due in January 2010, but could be postponed.
Respondents said the biggest concerns of Palestinians are the political divisions between Fatah and Hamas and the West Bank, still under Abbas' control, and Gaza. Next came the economy, insecurity and crime, Israel's occupation of the Palestinian territories, and the Israeli blockade of Gaza since the Hamas takeover. Abbas and Fatah bested Haniyeh and Hamas on most key issues in the poll, including peace-making, reunifying Gaza with the West Bank , and the economy. Haniyeh and Hamas, who refuse to recognize Israel, excelled only on resistance to Israel.
"Fatah is seen as the party of governance and peace, while Hamas now is only seen as the party of resistance, although that, too, resonates with Palestinians," said Craig Charney, President of Charney Research, which conducted the poll.
The poll also found that the Palestinians are skeptical of America and its new President, Barack Obama but still hope he will make progress towards peace.  Only one in six has a favorable view of America, and only one in four of Obama, but over two-fifths think the American president will make significant progress on Palestinian-Israeli peace.
The main gestures under discussion in Washington and Jerusalem – a settlement freeze and reducing checkpoints – are the least important to Palestinians of six major confidence-building measures under consideration.  Palestinians are much more interested in evacuation of Israeli settlements/outposts (28%) and prisoner releases by Israel (27%). Next came further Israeli withdrawals from the West Bank (13%) and easing border crossings, particularly in isolated Gaza (11%).
The poll was based on interviews with 2,402 randomly-selected Palestinians in the West Bank, Gaza, and East Jerusalem by experienced Palestinian interviewers from a local polling organization between June 23 and July 17. It consisted of a population-wide sample of 1,000 and booster samples to allow analysis of attitudes in every governorate (district), which are weighted down to their correct proportions in the overall results. The margin of sampling error for national results is +/- 3%.
News Coverage of the Poll
Growing uproar in Palestinian territories over Abbas' handling of Gaza war crimes allegations (AP/Washington Examiner)
What Palestinians Want (The Weekly Standard)
Mort Zuckerman: The Cruel Dilemma Facing the Jews of Israel (The Huffington Post)
September 2009 Poll Conducted by IPI (Geneva Initiative)
Palestinians Want Peace Deal But Don't Reject Hamas (Reuters/The Washington Post)
Palestinians Hold Firm on Settlement Freeze Demand Despite Obama Speech (Harratz, identifying IPI under its old name "International Peace Academy")
The Prospect for a Breakthrough (the Huffington Post)
Blair Weighs in on Peace Talks (Christiane Amanpour, CNN)
Poll Featured on "Amanpour: The Power of the Interview" (CNN)