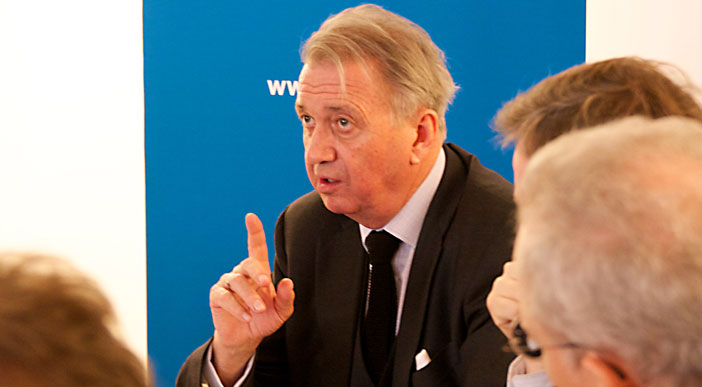 In a briefing at IPI's Vienna office, IPI President Terje Rød-Larsen warned that the situation in Egypt could have historic ramifications.
"The political landscape of the Middle East is changing, with consequences as dramatic as the revolutions in Europe of 1848 and 1989," he said.
"All countries of the region are different, but they are all being impacted," he said. "The world will also be affected; look at the jump in oil prices, the impact of shipping through the Suez Canal, and the political ripple effects."
Mr. Rød-Larsen, who has years of experience as a trouble-shooter in the Middle East, identified four epicenters of the conflagration in the Middle East: Iraq; Iran; Syria-Lebanon; and the Arab-Israeli conflict.
He also underlined vulnerabilities in Jordan, Libya and Yemen, and the crisis in Tunisia, and described how international relations in the region are based on perceptions as much as facts, and that the perceptions of states to each other and to the West are in a potentially dangerous state of flux.
Quoting a senior official from the Gulf, Mr. Rød-Larsen said that the Middle East is like a tent supported by two poles: Egypt and Saudi Arabia. "If one of the poles breaks, the whole tent will collapse."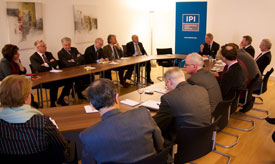 Mr. Rød-Larsen urged the international community to take an active role in seeking a peaceful end to the current crisis in Egypt. He noted that the opposition is heterogeneous and lacks leadership. He underlined the need for solving issues through dialogue rather than on the streets.
Participants in the briefing discussed the impact of changes in Egypt on the Arab-Israeli conflict. Mr. Rød-Larsen pointed out that Egypt, under President Mubarak, had been a source of stability in the region for more than three decades. He described his recent contacts with the Egyptian elite and explained their perception of the situation. The timeliness of his remarks was underscored by demonstrations in Tahrir Square.
While in Vienna, Mr. Rød-Larsen held a number of meetings to launch projects that will be carried out by the IPI Vienna office over the next two years, particularly in areas of conflict prevention and transnational threats. IPI's Vienna office opened in September 2010, and is IPI's first office outside of New York.