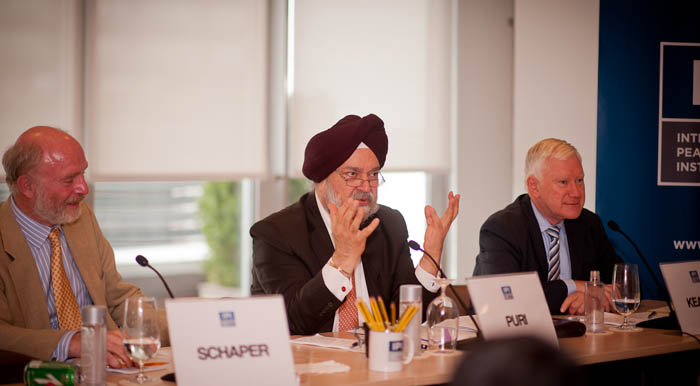 Two UN ambassadors and one former Security Council president held a vigorous debate at IPI on the subject "Responsibility to Protect: An Emerging Principle", and, while they agreed on RtoP's value as a principle, they differed markedly over how it is being applied in current crises, particularly in the ongoing conflict in Libya.
The June 28th session, co-sponsored by IPI and the Mission of the Kingdom of the Netherlands to the UN, featured that country's Permanent Representative, Herman Schaper; Ambassador Hardeep Singh Puri of India, a current Security Council member that abstained on Resolution 1973 authorizing a no-fly zone in Libya; and Colin Keating, Executive Director of the Security Council report, who, as the then- Permanent Representative of New Zealand, served as President of the Security Council during the debate on the Rwanda genocide in 1994.
In adopting the RtoP principle at the 2005 World Summit, the heads of state and of government pledged unanimously to protect their populations by preventing genocide, war crimes, ethnic cleansing and crimes against humanity, as well as by preventing the incitement of such acts. And they said the international community should assist states in that regard and promise to help the UN establish an early warning capability.
In what has become the most controversial part of the principle they said that when peaceful means to assure protection proved inadequate, they were "prepared to take collective action in a timely and decisive manner, through the Security Council."
Ambassador Schaper conceded that there were legitimate questions about whether the NATO bombing campaign overstepped the RtoP obligation to protect civilians, but added that "the eventual use of military force as a last resort has always been included in RtoP."
Ambassdor Puri was emphatic in stating his case, saying, "I personally believe that what has happened in Libya has given RtoP a bad name, and I'm being very blunt in saying that." "And he added, "unless we are careful, it's going to get worse."
Mr. Keating said, "The real question should be the Libyan people as a whole, and how do we get to an end game that resolves this question." He said this was a "really important question to bear in mind, to have drafting ideas and political motivation for the next time this happens, as I fear it inevitably will."
In conclusion, Ambassador Schaper said the purpose of the debate was not "just to make the point that RtoP is worthwhile defending, but also trying to reason through and think through and discuss some of the questions we need to face in implementing RtoP."
The moderator of the event was Warren Hoge, IPI Vice President for External Relations.

Read transcript