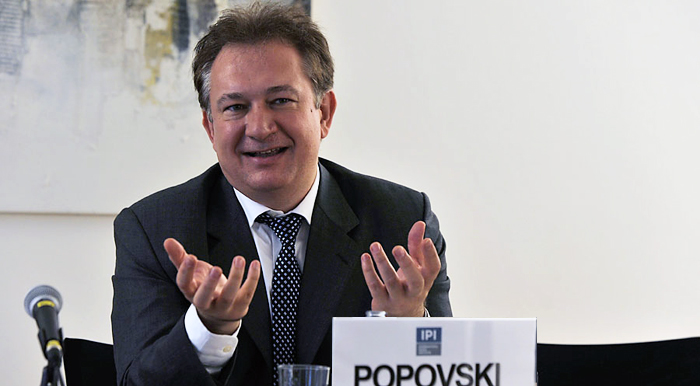 Nations and states seldom overlap. As a result, map lines delineating statehood can become blurred by bloodlines of nationhood. People sharing the same ethnicity may live on different sides of the border: some in the "motherland," where they are a majority, and others in a neighboring state where they are a minority. What happens when the minority is persecuted? Does the so-called "kin-state" have a right to protect "its" kin? Or is this a recipe for creating bilateral tensions, even conflict? Whose responsibility is it to protect the minority community?
These thorny and topical issues were discussed on July 15th at the IPI Vienna Office during the launch of a new book entitled Blood and Borders: The Responsibility to Protect and the Problem of the Kin-State. The book, published by the United Nations University (UNU) Press, is edited by Walter Kemp, Director for Europe and Central Asia at IPI; Vesselin Popovski, Senior Academic Officer at the Institute for Sustainability and Peace at the UNU; and Ramesh Thakur, Professor of International Relations in the Asia-Pacific College of Diplomacy at the Australian National University.
In addition to looking at the conceptual and political challenges related to the role of "kin-states" in protecting persons belonging to national minorities abroad, the book includes a number of case studies, including Hungary, Syria and Lebanon, Vietnam and Cambodia, Russia and Russians in Ukraine, Brazilians in Paraguay, and the Nigeria-Bakassi situation.
In a roundtable discussion, participants underlined the need for the protection of persons belonging to national minorities and the need for good relations between people sharing the same ethnicity, but highlighted how this can sometimes complicate intrastate and bilateral relations if handled improperly.
"Although the world cannot stand by when minority rights are being violated, neither can the protection of national minorities be used by kin-states as an excuse to violate state sovereignty," said Popovski.
"Taking unilateral action to protect kin in neighboring states is a perversion of the RtoP norm, and can spark conflict," warned Kemp.  "This problem could be avoided if states were more responsible towards their minorities and their neighbors," he said.
Edward Mortimer, Vice President of the Salzburg Global Forum (and former Director of Communication at the UN), was the main discussant at the roundtable. He said that "historically kin-states have played a destructive role and in many instances they continue to do so. But the sense of kinship is often an essential feature of people's self-image and cannot be wished away so it is better to try and use it constructively, as has happened in Ireland."