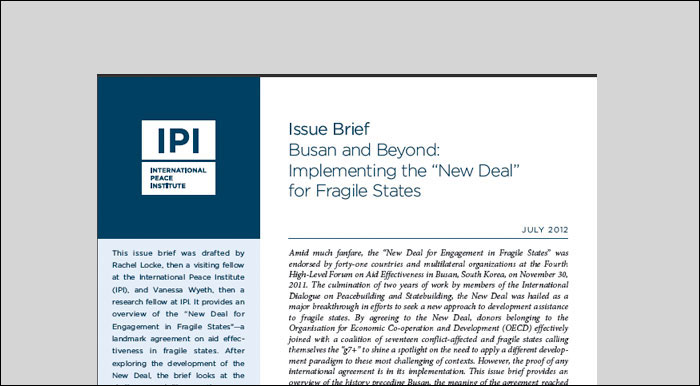 This issue brief outlines the development of the New Deal for Engagement in Fragile States, explores the challenges and dilemmas the agreement raises, and examines prospects for its implementation, with a particular focus on the role of the United Nations.
To ensure successful implementation of the New Deal, the authors make a number of recommendations, including:
As fragile states themselves take the lead on implementation, donors will need to take more of a back seat, investing more in their field missions to build trust on the ground.
As global indicators are developed to track progress against the New Deal, they must be accompanied by country-specific indicators tailored to individual country contexts.
The implementation process should involve inclusive dialogue between the government and population. Similarly, the anti-corruption efforts favored by donors won't be successful without popular support.
Ultimately, the brief shows that implementation requires strengthening the relationship between society, state, and donors, and engaging the wider community of concerned actors across issues of trade, defense, peacekeeping, and diplomacy. The New Deal's success will also depend on fragile states continuing to engage with one another through their own structures.