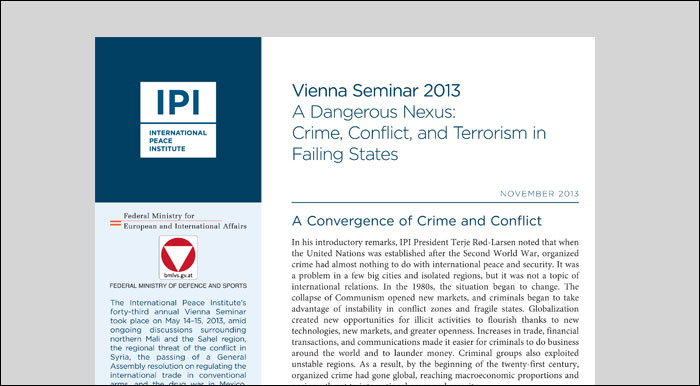 When the United Nations was established after the Second World War, organized crime and terrorism had almost nothing to do with international peace and security. Yet the collapse of Communism, the opening of illicit markets through globalization, and the proliferation of underdeveloped and weakly governed states has given rise to a new era of global crime as well as transnational terrorism. An emerging nexus of crime, conflict, and terrorism presents new challenges to the stability of both developing and developed states.
This meeting note summarizes the forty-third annual Vienna Seminar organized in partnership with the International Peace Institute, the Austrian Federal Ministry of Defence and Sports, and the Austrian Federal Ministry of European and International Affairs. The seminar focused on the links among criminal, insurgent, and terrorist groups and ways the international, regional, and local communities can cope more effectively with these nonstate actors. The rapporteurs show how weakened state sovereignty and different criminal strategies can account for the increasing convergence of crime and conflict. The note also illustrates how criminals and terrorists can exploit certain vulnerability factors and how policy responses targeting local communities rather than just "the bad apples" may be an effective resiliency strategy.
The rapporteurs discuss the nexus with specific reference to the Sahel and conclude with reflections on the need for more global responses to transnational threats.