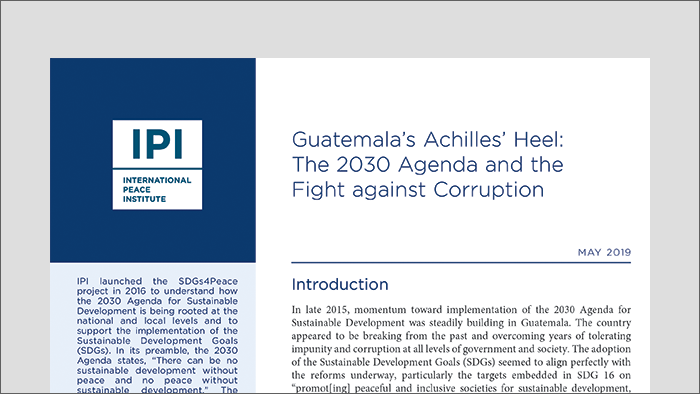 In late 2015, momentum toward implementation of the 2030 Agenda for Sustainable Development was steadily building in Guatemala. This momentum was driven by the International Commission against Impunity in Guatemala (CICIG) and protesters in the streets demanding action against corruption. Since 2017, however, a political standoff in Guatemala has started reversing these gains. A sustained reversal would undermine efforts to address the country's longstanding socioeconomic needs.
This study analyzes recent gains and setbacks in Guatemala's efforts to implement the 2030 Agenda and provides recommendations for ways the country can fight corruption and securitization to sustain peace and promote sustainable development. It suggests better communicating the 2030 Agenda through multi-stakeholder outreach, improving monitoring or progress, aligning international aid with local objectives, and continuing to engage with the private sector.
This issue brief is part of the International Peace Institute's (IPI) SDGs4Peace project, which seeks to understand how the 2030 Agenda is being rooted at the national and local levels and to support the implementation of the Sustainable Development Goals. The project focuses on five case studies: Guatemala, the Gambia, Greece, Lebanon, and Myanmar. Implementation of the 2030 Agenda provides each of these countries an opportunity not only to buttress existing aspirations but also to build new partnerships that transcend traditional approaches.