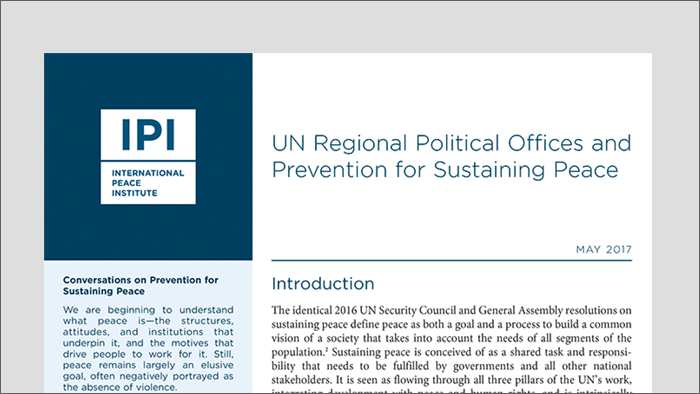 Since 2002, the United Nations has created three regional political offices—in West Africa, Central Africa, and Central Asia—to harmonize efforts to identify cross-border threats and defuse tensions. But while their mandates contain many elements related to prevention and sustaining peace, these offices remain focused on addressing the proximate causes of conflict rather than on reinforcing capacities for peace.
This issue brief focuses on how the mandates or these regional political offices could be strengthened from the perspective of sustaining peace. It suggests that these offices should work with regional partners and other UN entities to identify capacities for peace, including as part of implementing the 2030 Agenda for Sustainable Development. Moreover, the secretary-general should empower the heads of regional political offices to implement his "surge of diplomacy for peace" from a sustaining peace perspective, and the relationship between these offices and the Peacebuilding Commission should be strengthened.
This issue brief is part of the International Peace Institute's (IPI) attempt to reframe prevention for the purpose of sustaining peace through a series of conversations from October 2016 to June 2017. Other conversations have focused on how to approach peace operations and the SDG on gender equality from the perspective of sustaining peace, as well as on what sustaining peace means in practice.
This publication is part of a project funded by ifa (Institut für Auslandsbeziehungen) with resources provided by the German Federal Foreign Office.